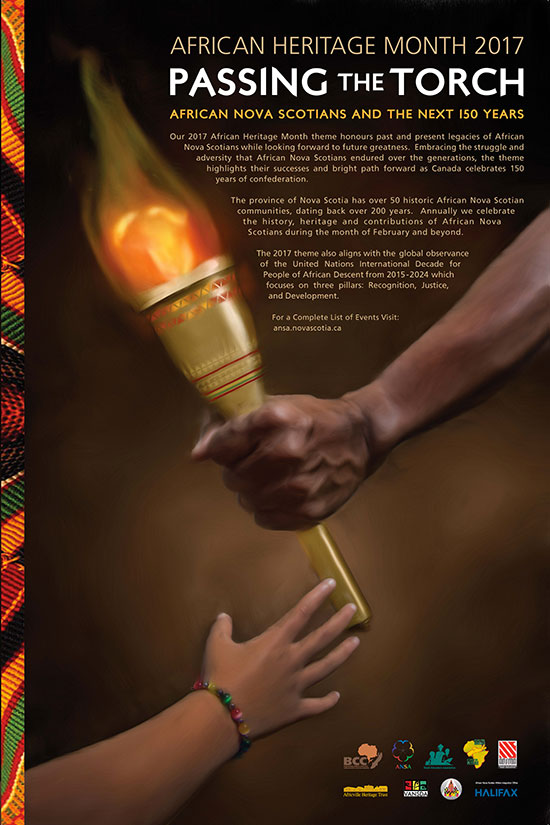 The 2017 African Heritage Month theme honours past and present legacies of African Nova Scotians while looking forward to future greatness.  Embracing the struggle and adversity that African Nova Scotians endured over the generations, the theme highlights their successes and bright path forward as Canada celebrates 150 years of confederation.
The province of Nova Scotia has over 50 historic African Nova Scotian communities, dating back over 200 years.  Annually we celebrate the history, heritage and contributions of African Nova Scotians during the month of February and beyond.
The 2017 theme also aligns with the global observance of the United Nations International Decade for People of African Descent from 2015-2024 which focuses on three pillars: Recognition, Justice, and Development.
Download your copy of your poster:
ENGLISH HERE (27 MB)
FRENCH HERE (23 MB)
To order physical copy of the poster (While supplies last) please visit the Black Cultural Centre:
http://www.bccnsweb.com/web/ahmposter/
For a Complete List of Events during African Heritage Month Visit: http://ansa.novascotia.ca/calendar
African Heritage Month in Canada
The commemoration of African Heritage Month in Canada can be traced to 1926 when Harvard-educated black historian Carter G. Woodson founded Negro History Week to recognize the achievements of African Americans. Woodson purposefully chose February for the birthdays of Frederick Douglas and Abraham Lincoln, both key figures in the emancipation of enslaved blacks: In 1976, as part of the American Bicentennial celebrations, Negro History Week was expanded to Black History.
The vast contributions of African-Canadians to Canadian society have been acknowledged, informally, since the early 1950s.  In December 1995, the House of Commons officially recognized February as Black History Month, following a motion introduced by the first Black Canadian woman elected to Parliament, the Honourable Jean Augustine. In February 2008, now retired Nova Scotia Senator Donald Oliver, Q.C., the first Black man appointed to the Senate, introduced a motion to have the Senate officially declare February as Black History Month. It received unanimous approval and was adopted on March 4, 2008. The adoption of Senator Oliver's motion was the final parliamentary procedure needed for Canada's permanent recognition of Black History Month.
The African Heritage Month Information Network is a partnership with African Nova Scotian Affairs, The Black Cultural Society (Organizational Lead), African Nova Scotian Music Association, African Nova Scotian North-Central Network, African Heritage Month Southwest Network, Africville Heritage Trust, Black History Month Association, Cumberland African Nova Scotian Association, and Valley African Nova Scotian Development Association, the Halifax Regional Municipality's African Nova Scotian Integration Office, and the Guysborough, Antigonish Strait African Regional Network.